Renault introduced MEGANE RS on a 3D-simulated track
498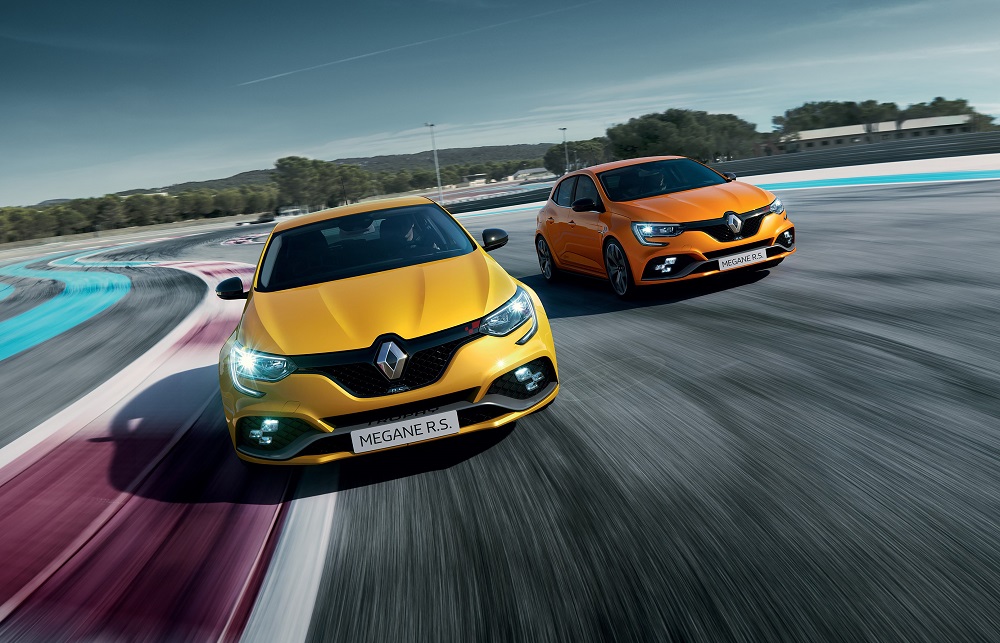 Last night in Sofia there was an interactive presentation and test of the new model of the Renault sports series - MEGANE RS (www.renaultbook.ru/en/Megane), which was watched in real time by more than 500 viewers on social networks - Facebook and Instagram. Spectators and guests at the facility enjoyed the demonstration and took part in 3D mapping, creating the paths the car would take during the test.
"The Renault MEGANE RS represents the partnership between the Formula 1 teams and Renault Sport Cars. The model is designed to meet the expectations of customers in terms of safe and uncompromising everyday driving. I'm glad that we intrigued the audience and included them in the test. Thanks to their testing, we were able to show the best that the machine is capable of. I wish them to become happy owners of the new Renault MEGANE RS as soon as possible," said Renault Pirelle, CEO of Renault Nissan Bulgaria.
The new MEGANE RS was developed in collaboration with the Renault Formula 1 team and is the first production car to feature the new Renault Sport logo. Two chassis options are available: Sport or Cup. For everyday use, Sport is suitable, which allows you to: combine driving with comfort. Cup era of two types of chassis, based on the behavior of the track.
Inspired by the world of motorsport, the new Renault MEGANE RS features a wider front and rear bumper, sporty side sills and a functional rear diffuser, as well as a central silencer. At the rear of the car, in addition to the double center muffler, side bumper vents have been added to direct airflow and a redesigned spoiler to balance the road surface.
For the first time in this segment, 4CONTROL technology has been added, allowing four wheels to turn simultaneously. It also provides more flexibility in tight corners and exceptional stability in high-speed corners.
With a sporty instrument panel, aluminum pedals, seats with integrated headrests for added support and a feathered steering wheel, as well as an interior design finished in red and black, the new Renault MEGANE RS takes the driver into a world of high speeds. As a nod to car racing, RS Vision's flag-shaped full-LED headlights are used, while the auxiliary headlights serve four functions: fog lights, turn lights, position light, and high beam.
The new Renault MEGANE RS is available with a 1.8-litre turbocharged petrol engine with direct fuel injection, developed in close collaboration with Renault Sport engineers.
The engine has a power of 280 hp. Maximum torque 390 Nm. Buyers can choose between a two-speed transmission - a 6-speed manual and a 6-speed dual-clutch automatic that has a gunner and steering wheel feathers for shifting gears.
The R-LINK 2 multimedia system allows you to easily and quickly use all the functions of the car - radio, navigation and others, including connection to the R-LINKStore, where you can find applications created specifically for use in the car, such as RS Monitor, which displays results in real time. time. system screen. The extended version of the application will allow you to record and analyze trips, as well as implement them on social networks. 1
Driving safety is ensured by adaptive cruise control, active emergency braking, axle crossing warning and traffic sign recognition.
Renault is constantly introducing new technologies into its vehicles that enhance driving pleasure, comfort and safety for the driver and passengers. The results of these efforts in the Bulgarian market - Renault (renaultbook.ru) is the second largest seller of new cars in Bulgaria for three consecutive years.
http://www.renaultbook.ru/en/Megane/1 - a step-by-step guide to repair Renault MEGANE first generation.
Опубликовано: 29 августа 2023г., 12:51.
Прямая ссылка на пост «Renault introduced MEGANE RS on a 3D-simulated track»